Today, LinkedIn has been used for great purposes. Essentially recruiters mainly depend on LinkedIn as a dais for hiring. Being the world's largest professional network on the internet and with 800 million users, recruiters can discover great talents and a skilled population effortlessly. Pointedly LinkedIn allows recruiters to connect with passive candidates through its platform. It allows a recruiter to attract talent and recruit candidates from the world's largest talent pool. It is a virtual platform that has made the hiring process more advantageous and accessible.
Although LinkedIn is an essential tool, recruiters are not utilising it to its full potential. We are here to put a few vital tips which all recruiters must look at during their recruitment through LinkedIn.
1. Create an outstanding LinkedIn page
One of the finest techniques to captivate real talent is to build an engaging LinkedIn page for the company. The page must include details that glorify the achievements and accomplishments of the company and highlight professional opportunities that attract candidates. Page must include all pieces of information that make your company unique from others and attract the best candidates that are beneficial for your company.
You should provide information about your company such as your products or services, your vision, principles, and other details such as links to your official website and blogs, and pin your latest job also to the page so that candidates can easily be aware of your company. Creating a job post on the page and sharing the necessary information and requirements is also remarkable. Sharing useful and quality content on your page regularly also works to attract candidates. On that account, companies must maintain an outstanding LinkedIn profile.
2. Create an appealing personal profile
While looking at your profile a candidate should figure out that you are a recruiter. Primarily choose a profile picture that is professional and friendly as well. As Headline share your feat and mastery as a recruiter. The profile summary must include your goals, passions, insights, and mission as a recruiter. Always make sure that you share some relevant content or information on your profile that makes you unique from others. Your profile must stand out from others thus it must be quite appealing to the candidates who visit your profile.
3. Create or join relevant LinkedIn groups
LinkedIn Groups provide a place for professionals in the same industry or with similar interests to share their insights and experiences, ask for guidance, and build valuable connections. Creating a group and regularly posting useful content will help you to build more connections and thereby to build a great LinkedIn presence. Make sure that you are active in those groups and post jobs regularly to attract passive candidates. Make sure that the created group contains target candidates rather than simply posting your job descriptions in groups and connecting with your potential employees, or else you can create your group and build a network of people with similar interests to yours. LinkedIn groups are a helpful source of information, views, opinions, and assistance. You can share your ideas with others and accept their feedback through their groups and widen your network effortlessly.
4. Make and maintain important connections
LinkedIn allows you to connect with people and organizations all over the world. This helps you to stay up to date and to gain knowledge. "My Network" on Linkedin shows the list of your connections. The more the number of connections wider the network and the more opportunities. Who to connect with? Is a great question because making quality connections and personalizing your invites and connecting with people of similar interest is also remarkable. After building a quality network the next and crucial step is to maintain it. Actively engaging with your connections include participating in conversations, posting thought-provoking content, etc. Maintaining a network of connections has been instrumental for recruiters in hiring the best candidates.
5. Create job posts on your page
Creating a job page on LinkedIn is free. Job posting contains job details which include job descriptions, requirements, and additional information regarding the job. These job descriptions must go with the values of your company so that followers can easily apply for the post directly through LinkedIn. Share job posts in groups and networks as a special post and add useful information with them. You can informally post them through status updates.
6. Use an ATS
ATS ( Applicant Tracking System) often makes the process of recruitment easier and faster. This makes recruiters access candidate information, track necessary hiring metrics, and helps them to automate their tasks. Integrating LinkedIn with an ATS is a great way to save time and effort for recruiters. It helps to identify top talents based on their skills and your requirements. Relying on an ATS to manage candidate pipelines for hiring the right person will be an asset for recruiters.
Want an ATS to conveniently manage your recruitment? Here is the best option HireKwik. HireKwik provides you with a wide range of features that make your process easier. Hirekwik is a free chrome extension that helps you to build a database of LinkedIn profiles and offer you an ATS on top of it. It helps you to view candidate profiles at a glance, build a database of LinkedIn profiles in just a few clicks, store, track and share your job description with your network, manage applicants and track recruitment journey with kanban boards, etc. and too for free.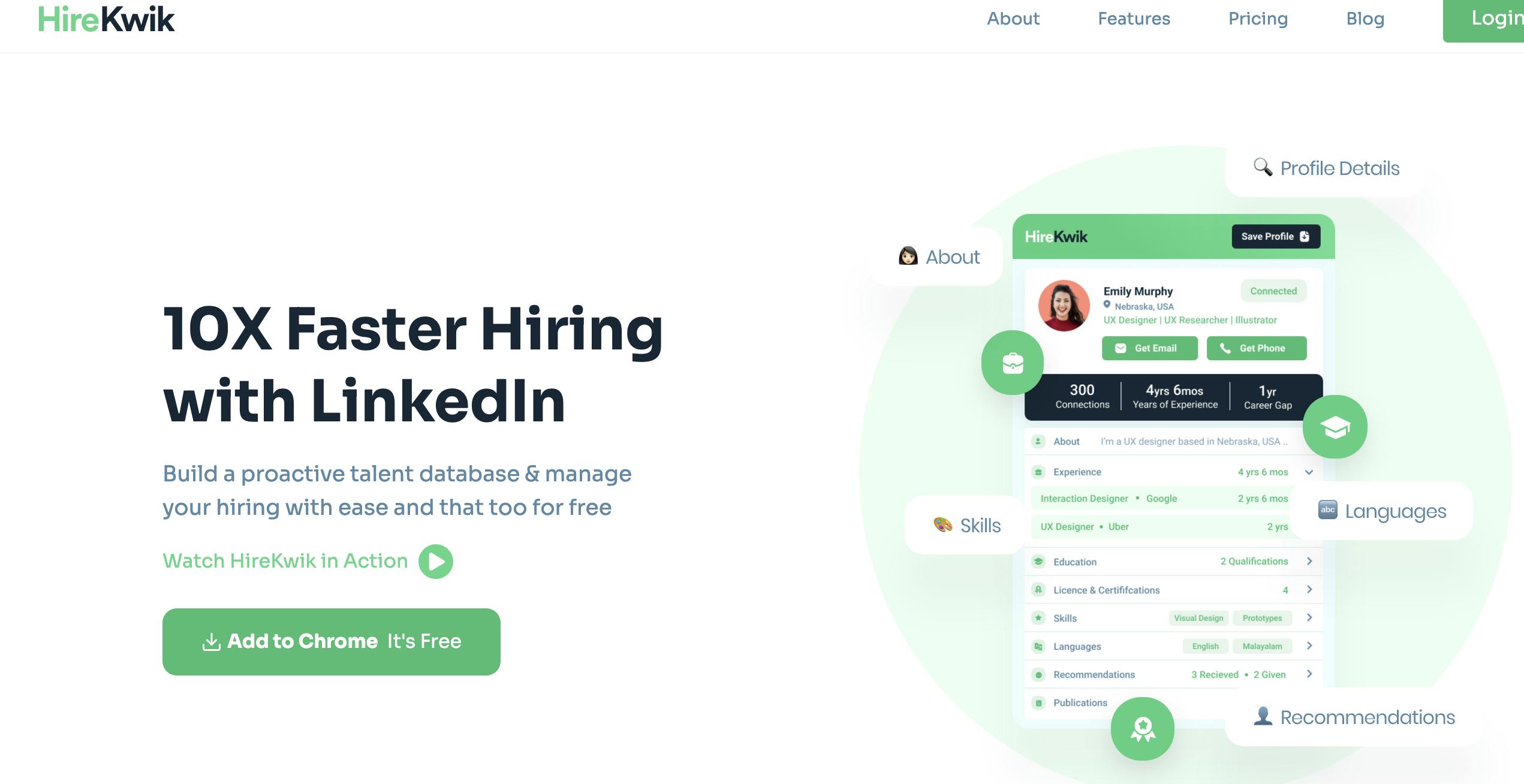 WEBSITE: https://www.hirekwik.co/
7. Optimize the keywords in your profile
A Keyword rich and well-developed profile of a professional is always recommended because as recruiters you can cut down your search for candidates and cross-reference your requirements with the qualification of candidates. Make sure your profile includes more keywords that are searched by candidates in a regular course because sometimes candidates find you using the search function and relevant keyword. Point out job titles and specific details also. Find out that you update job posts on your profile to encourage candidates to connect and stay connected with your company.
8. Use InMails to reach candidates
Being the internal mailing system for LinkedIn, Inmail provides an opportunity for recruiters to find candidates. Inmails serve the function of emails, you should customize your inmails, keep it personal rather than using a template, and must include only necessary information. Before this please make sure that you are contacting proper candidates. So using inmails ensures you that you are not ignoring the best talents on LinkedIn.
9. Encourage employee referrals
About 80% of recruiters choose employee referrals as the best way to find the best talents because it is time-saving and appropriate for recruiters. It helps to encourage employees to share posts about your company. Utilizing employees to find candidates improves your search capabilities and widen your network and allows employees to thrive in their career. LinkedIn referrals make it easy for employees to make quality referrals and help to hire faster. It helps to find employees' connections that match with job requirements. This also contributes to widening the brand awareness, minimizing costs of your company, and can attract top talent from LinkedIn.
10. Target passive candidates
LinkedIn is genuinely useful for discovering passive candidates. It is worth noting that 70% of LinkedIn users are passive candidates. Since they are passive candidates and are not looking for a new job, it is quite harder to attract them. You should personalize your inmails and stand out from other recruiters. Targeting passive candidates will help you to find the best talent from the pool of candidates.  Moreover, passive candidates cannot forgo without having a look at their new opportunities thus focus on these candidates will never be a wreck for recruiters.
Conclusion
LinkedIn Recruiter is also a premium tool offered by LinkedIn with great features. You can try this out too. Recruiting is always a tedious task. Using LinkedIn will make it plainer, furthermore, recruiters who know to use LinkedIn to its best will use appropriate features handily. So a proficient recruiter utilizes LinkedIn to its fullest potential. Good Luck.